Founders · November 4th, 2022
Introducing ClipFM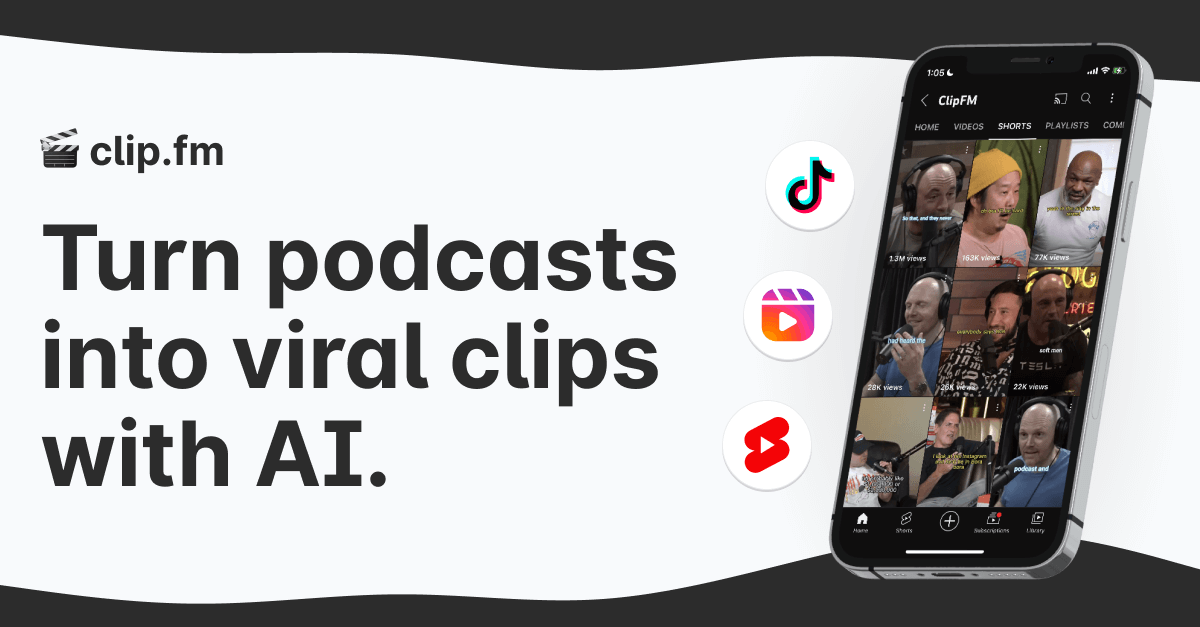 A magical AI tool that makes ready-to-post clips from your videos in seconds.
Short-form content rules the Internet. YouTube has Shorts, Instagram has Reels, Facebook has Reels, Snapchat has stories, Twitter has suggested videos, and of course there's TikTok which needs no introduction.
In order for creators who solely create long-form content (i.e. podcasts, shows, lectures) to stay relevant in the clip era, they will be forced to either (a) clip their own content or (b) hire an editor to do it for them.
(a) is very time demanding, and we've found that some creators spend up to five or six hours editing clips per one hour of content. Creators with momentum get bogged down with the workload and some lose motivation to create content.
(b) can be very expensive and difficult to find the right editor for your content. Telling a human editor to clip "the valuable parts" might mean different things to them than it does to you. You will have to invest time and money to train them.
So for the creators who have traction but can't yet hire a full-time editor, clipping content is a real pain in the ass.
Say hello to ClipFM
Clip.fm is an AI tool that generates ready-to-post clips from videos or podcasts with just a YouTube URL. We use a combination of open-source transcription and text completion models to find the timestamps of the most interesting parts of a piece of content and then use these timestamps to output new clips in customizable screen orientations.
Resources
Website: https://www.clip.fm/
Contact: [email protected] (sales) or [email protected] (engineering)
YouTube: https://www.youtube.com/channel/UCEd-PTmqayfXeTVwX_6JP2A
TikTok: https://www.tiktok.com/@clip.fm
Instagram: https://www.instagram.com/clipdotfm